July 2009 Hero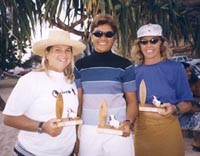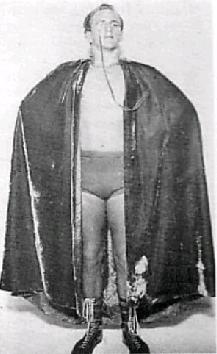 Women's Professional Surfer, first woman to surf in a men's professional tournament, the daughter of Lord Tallyho Blears. Laura was my classmate in 1st and 2nd grade, later 7th and 8th grade at Washington Intermediate in Honolulu, Hawaii. While she did not know me, I sure knew her in 7th and 8th grade. Everyday walking to and from school, my buddies and I would walk pass her hanging out with the surf crowd at the mini store near school at the corner of Kalakaua Blvd and Philip Street. Always catching our eyes. She had to be the "most bitchin" girl at Washington.
The Blears family arrived in Hawaii in the mid 1950's. On the plane to Hawaii, Laura wore her her bathing suit under her dress so that when she arrived in Hawaii she could run right into the ocean. A ocean love affair started. She would grow up in Waikiki and her father would take her to the beach where beach boys would teach her how to surf, paddle canoes, and sail catamarans.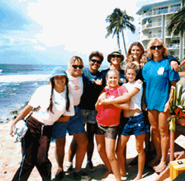 After eight grade, Laura transferred to Punahou High School. President Barack Obama's high school. She would participate in swimming. She would swim the 50 and relays. Her dad would attend all her meets with a stopwatch. Laura started surfing in tournaments around the ages of 12 or 13, she competed in tandem surfing which were big in those days. She competed at the Makaha International Surfing Championships. In those days that contest was the biggest and people came from all over the world to compete. Some of her moves with her partner were around the world, one leg stand, the swan, and a few others she could not recall.
Early in the 1970's, Laura competed in paddle boards events off Waikiki beach against the boys. Her intensity for competition caught the eye of her father. Her father would have a painting made from a picture taken after a close race she had lost. That intensity did not go unnoticed by the director for the Smirnoff World Championships Fred Hemmings. He invited her to surf against the men. She became the first woman to compete in a men's surfing event. "Chick with a stick", as some men surfers referred to woman surfers.
Later in the 1970's, her surfing fame would lead to participation in ABC's Women's Super Star Competition. (Results here) (People Magazine) (Sports Illustrated) She competed against Cathy Rigby, Anne Henning the speed skater, and Martina Navratilova who became a friend. Her biggest thrill was meeting Althea Gibson, who had to over come racial prejudice to compete in tennis and golf. She had to select 7 out of 10 events. She selected all water sports and did well, but got "pounded" in events like bowling. Her event highlight came when she won the basketball shooting competition using the Wilt Chamberlain free throw style her father had taught her. Upon sinking the winning shot, her dad fell to the ground cheering. Well done, coach. Her dad had coached her in all events. Too bad there wasn't any wrestling event.
She would receive more fame from her appearance in Playboy, July 1975. That issue is probably one of the most popular issues ever released. We will leave that here. This is a T-shirt web site.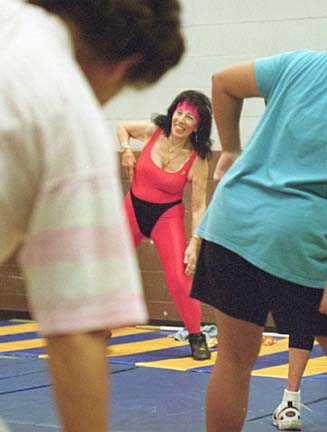 Today, like her mom, Laura works as a fitness instructor and marketing representative. She specializes in Pilates instruction and continues to participate in surfing events in Hawaii.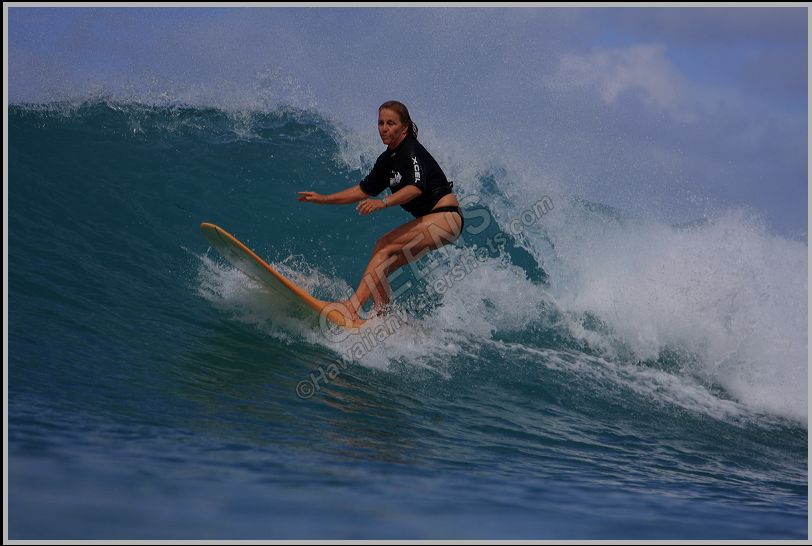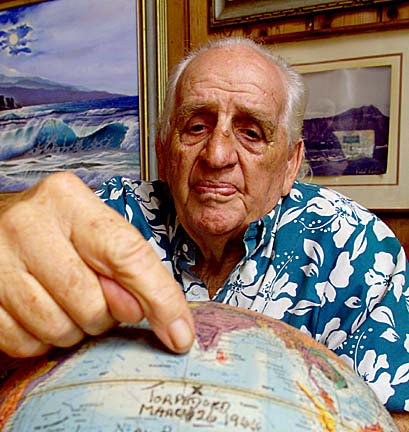 See Lord Blears World War II Story
TALLYHO LAURA BLEARS
July 2007 Hero

Growing up in Hawaii in the 1960's was fun in paradise for kids like my brother and I. Especially the wrestling scene. The likes of Curtis Iuakea, Tosh Togo (Goldfinger's Oddjob), and Lord "Tallyho" Blears were pure role models for a lot of us kids. Have fun at what you do. All the wrestling holds, like the "Figure 4", "Kiwi", and "Indian Death Lock". I would learn to use those holds on my brother during our evening wrestling matches. It was the "Tallyho" spirit that brought many a laugh and great joy. Check out the links below.

James Ranicar Blears, then 17, grew up quickly as he went off to war in 1941. He served as a radioman aboard a British
merchant marine ship which, a year later, sailed through the Persian Gulf to Iran with its cargo of tanks, ammunition and
supplies bound for Moscow to help in the grim battle against Germany's Nazi hordes. Fifty years later the Russian
government finally tracked him down to the sleepy shores of Makaha to award him a belated medal in honour of his heroism
in those dark days of the conflict. In March 1944 he was serving aboard a Dutch Allied vessel taking food and
supplies from Australia to Calcutta to help in the Burma Campaign when, 1,000 miles from Ceylon, the ship was
torpedoed by a Japanese submarine. More than 100 of the crew were captured, and Blears watched in horror as they were beheaded and shot on the deck. As he was dragged towards a grisly death, Blears kicked the swordsman and, still manacled to his mate, leapt into the ocean. His pal was killed by machine gun bullets, but the brave Tyldesley lad escaped, later to be rescued by an American Liberty ship. He received another medal for heroism from the Queen of the Netherlands. Then he rejoined the war effort. Aboard the New Amsterdam, then the world's third largest ship, he helped in the transport of wounded American soldiers from war-torn Europe and back to the States. After years of blackouts and food shortages, the lights and sustenance of Times Square and Broadway were heaven-sent. As his ship waited for repairs Jim lined up a few
wrestling matches to pass the time. The bouts were to change his life. His dynamic style was spotted by American promoters, who offered to back him after the war. So it was that, with around £20 in his pocket, he headed for the Wild West! In 1948 he legally changed his name to Lord James Blears as he wrestled his way across country and finally, in 1955,
to California. From there, with wife Lee, whom he had met in New York on Long Island's Long Beach, he moved to Hawaii. And fell in love again...first with the island, then with surfing. He was taught to surf by Sammy Steamboat Mokuahi, who in turn was taught to wrestle; he helped coach the island's young wrestlers; and Waikiki beach boys gave him a new name Tallyho! And in 1969 Lord Tallyho Blears won the Hawaii Surfing Association's senior championship. He passed on his love of the ocean and the sport to his children. Young Jimmy became a world champion in 1972, daughter Laura earned respect as a professional surfer. Then Tallyho took up the microphone, his bubbling energy channeled in a new direction as in vibrant words he caught the excitement of the annual Pipe Masters surfing tournament. The step into TV via 'Magnum' with Tom Selleck was little more than a hop. And the monocle and top hat never seemed
out of place for Lord Tallyho Blears.

August/September 2007 Hero

In this day and age when we see less playgrounds being developed, schools and gyms under lock and chain, places like the road to out the Cabrillo National Monument shutdown at 5:00 in the evening due to financial and security reasons there was a man long ago who stood up to all the the boo-hoos. His was name was Mile Marshall. Here he is at Michigan State cutting through a chain that locks a fence blocking entry to a field. Also, it is funny that there is not enough money to keep the road to the Cabrillo National Monument open until sunset, but enough money to build a new golf course on North Island.

October 2007 Hero

It was the late 1950's, my dad and a few friends from went fishing on a Sunday on my dad's boat the Bobbi-Dee south Oahu, Hawaii. They failed to return in the late afternoon. Just before dark, my mom placed a call to the Coast Guard. The Coast Guard responded with search aircraft and ships. About 1:00 AM, Monday morning, my dad on the Bobbi-Dee, engine knocked out, heard a plane fly over. He fired a flare, the plane saw it and started circling the boat for a couple of hours until a cutter came on the scene and towed the Bobbi-Dee home to the Ala Wai Yacht Harbor. It was a happy Monday morning for our family. Thank you, United States Coast Guard.

After hurricane Katrina, when every federal, state, and public agency stood paralyzed. One outfit was on scene, saving one life after the other. Thank you, United Stated Coast Guard.

November 2007 Hero